How many people would have heard the name 'Zumba' 5 years back? Not many I guess. But now, a Zumba Instructor is basically needed in each and every health and fitness institute across the globe. Such is the nature of jobs and careers. With a constantly changing global scenario, machines taking over our jobs and focus shifting towards creativity, our careers and jobs have become extremely unpredictable. But as they say, there is a silver lining in every challenge. So here we present, after much research and fact gathering, 5 jobs that are likely to be in huge, huge demand by 2020.
1. Product & Project Managers
The works of project & product managers are closely related and often interchangeable. The job profile basically pertains to researching, developing as well as deploying new services and products. Their work encompasses across various disciplines and a major chunk of their activities is taking output from various team members like designers, information technologists and integrating their ideas into a competitive product, service or experience.
Product & Project managers are required everywhere. However, experts suggest 6 key sectors where their demand is going to increase manifolds. These are healthcare, energy, construction, IT, finance, defense and aerospace. As it can be seen that these sectors are basically core sectors or we can say backbone of the global economy, therefore the demand is going to rise unprecedentedly.
PMI (Project Management Institute) recently released a PMTG (Project Management Talent Gap) report showing a panorama of growing project & product management prospects by 2020.
New project/product management roles

 

Canada

582,366

Brazil

1.3 million

Japan

2.6 million

India

9 million

China

25 million

Germany

1.6 million
Not only this, the meridian salaries of Project managers & Project managers are among the highest across the globe
| Country | Median Salary (in USD) |
| --- | --- |
| Australia | $134,658 |
| Switzerland | $133,605 |
| Netherlands | $103,274 |
| Germany | $101,983 |
| Canada | $95,140 |
| New Zealand | $93,513 |
| Belgium | $92,817 |
| Sweden | $90,690 |
| United Kingdom | $90,666 |
| India | $30,500 |
In the wake of the above gap in supply and demand of these jobs, the average salaries are naturally going to skyrocket. So if anyone wants an early retirement fund and a fulfilling, meaningful career without having the fear of getting laid off in future, go for a Project or Project management career.
2. Healthcare Professionals
Jobs in healthcare and medicine sectors are definitely going to boost. With the growth of technology, availability of medicines to cure anything and everything, the life expectancy is going to increase. However, increased life expectancy does not necessarily indicate a better health. According to WHO, almost half of the disease across the world are lifestyles related. This means even if you increase your life expectancy (through medicines and drugs), the quality of life is not going to be better. As a result, demand for healthcare professionals such as nurses, personal care aides, home health aides is going to rise exponentially.
| Role | Occupational Group | % rise in demand by 2020 | Typical Educational Requirement |
| --- | --- | --- | --- |
| Registered Nurses | Healthcare Practitioners | 26 | Associate's Degree |
| Personal healthcare aides | Personal Care and Services | 70 | Registered course/diploma |
| Home health aides | Healthcare Support | 69 | Registered course in medicine |
Another reason is growth in the healthcare sector itself. Areas such as high-end surgical equipment, automation of surgery, telemedicine are becoming hot and in-demand; requirement for people with the right skills for managing this automation is also rising.
| Projected growth in revenue of Hospitals | 5 percent per year (average) |
| --- | --- |
| Projected growth in employment across Healthcare Industry | 10 percent per year (average) |
| Average wage in the industry | $66,567 |
Unlike other sectors such as manufacturing and corporate, healthcare professionals cannot take the risk of leaving a human's life purely only the hands of robotic automation. So safe to say, healthcare professionals are going to survive well!
3. Data Analysts/Big Data/Data Mining
Numbers are going to rule the future. With the exponential increase in technology, the quality of information available is spectacular and unmanageable at the same time. Even now, there is a huge requirement of people with data mining skills that can turn these huge chunks of alien data into something more meaningful and usable for the businesses. Every large MNC will have data mining analysts for analyzing customer trends as well as market breakthroughs.
A study conducted by MGI (McKinsey Global Institute) stated that there will be a shortage of more than 190,000 data scientists as well as 1.5 million analysts by 2018. Another table from Indeed Job Consultancy firm shows the current salaries advertised for big data jobs. Without question, with the future gap in demand and supply, this paycheck is going to increase manifolds.
| Big Data Job Titles | Salaries per annum (in USD) |
| --- | --- |
| Analytics and Metrics Specialists | $ 90,000 |
| Big Data Analysts | $ 110,000 |
| Analytics Associate | $ 100,000 |
| BI and Analytics Consultant | $ 130,000 |
| Business Consultant | $ 85,000 |
Below are two of the results from the 'Peer Research – Big Data Analytics' survey. Both of these results clearly indicate that organizations are not only thinking about big data but they are also realizing its importance in taking critical decisions.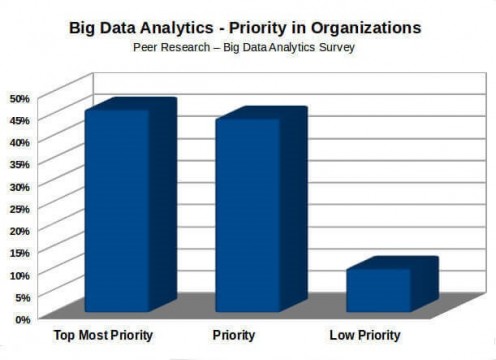 Almost 45 percent of surveyed believed in the importance of Big Data as a priority in their organization, especially for recognizing market and sales opportunities.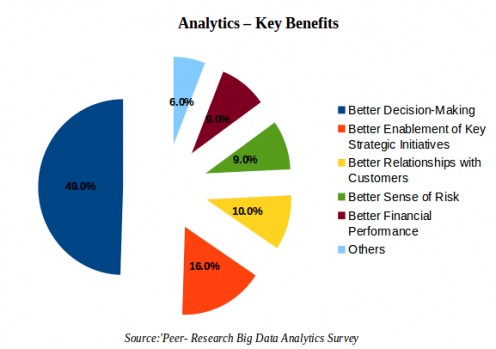 Almost ¾ of the participants accepted the fact the analysts will definitely add significant value to their business by helping them making effective and timely business decisions. This clearly indicates that the era of data analysts is arriving soon.
4. Digital Marketers
Social Media explosion, fast-speed broadband connectivity as well as internet traffic through mobile devices. All these have changed the marketing approach completely. Now, without using cross-device & multi-media digital marketing, consumer reach is next to impossible. A forecast from Technavio's analysts stated that the global market spending in digital marketing is going to increase at a 9 percent rate annually. Thus, you can imagine the demand for digital markets in future.
Here is the current average salary trend of digital marketing experts and expected growth by 2020.
Role/Title

Current average annual salary

(in USD)

Expected growth in percentage

SMM (Social Media Marketing Managers)

$60,000-$90,000

35-40 %

Technical Writers

$58,000-$95,000

30-35 %

Digital Strategists

$80,000-$130,000

35-40 %

SEM/SEO Specialists

$70,000-$100,000

40-50 %

Digital Managers

$80,000-$120,000

40-50 %
Every minute, Google receives around 650,000 search requests, You Tube sees 700 plus videos hosting's and Facebook manages over 500,000 comments and 800,000 status updates. In that very minute, more than 650,000 global tweets are made and almost 190 million e-mails get shared. These figures are clear indication that digital media has immense capability to reach consumers at a level which traditional media are almost always unable to reach.
Here is another statistics from the eMarketer showing the expected advertising spends across different channels by 2020. It is clear that the demand for specialists in digital marketing is going to increase significantly.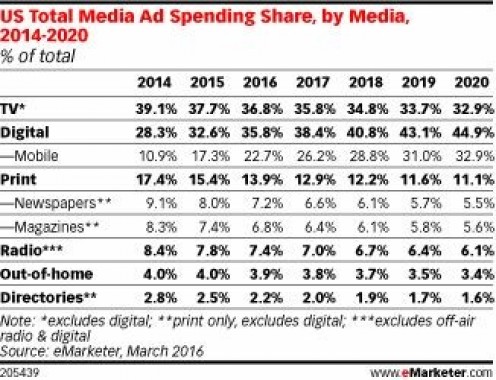 5. Software Development and IT
With extreme growth across healthcare and other services wherein technology is of umpteen importance, ever-expanding mobile networks and super-evolving energy sector, IT professionals are going to stay. Some of the hot jobs in IT and software will be those of app developers and IT managers. In today's technology oriented space, every business needs personalized app for promotion. And someone needs to monitor the monitoring systems too. Some of the job titles in the IT and software development sector that are likely to boost enormously by 2020 are:
| Job Title | Job Forecasts (2020) | Percentage Job Growth |
| --- | --- | --- |
| Software developers and systems software | 519,400 | 35% |
| Database administrators | 144,800 | 35% |
| Network and computer system administrators | 443,800 | 30% |
| Software applications developers | 664,500 | 30% |
| Systems analyst | 664,800 | 25% |
| IT Security Analysts & Network Architects | 367,900 | 25% |
| Computer & IT Managers | 363,700 | 20% |
| IT support specialists | 717,100 | 20% |